November 29, 2022, GivingTuesday
In 2023, we will celebrate 50 years of service to our community. You can support us in maintaining our free, specialized rehabilitation and training services to 2,590 infants, kids, teens, working adults, and elders in our community who are blind or visually impaired by donating $50 or more today or on GivingTuesday.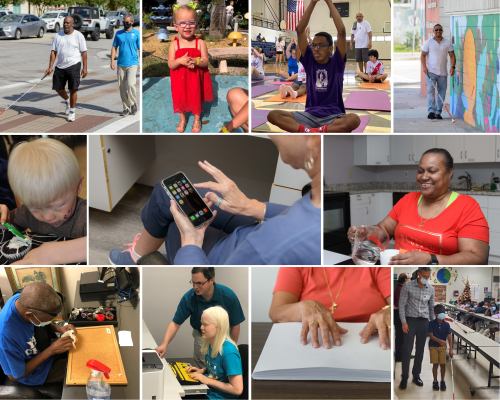 Here are some ways your donations impact our clients and strengthen their independence:
$25 provides a client with a handheld voice recorder or a full spectrum task light.
$50 provides a client with a white cane complete with a specialized tip or a talking watch. 
$100 provides a low vision exam to a visually impaired child or adult by NSU.
$150 for a survival kit: including a white cane with specialized tip, talking watch, 20/20 pens, bold print paper, full-spectrum task light, large numbered, talking alarm clock, oven gloves, contrasted cutting board, large print calendar, large playing cards, and bump dots. 
$250 provides 5 hours of assistive technology training, the pathway to literacy, and full competitive employment for a blind or visually impaired adult. 
$500 provides 10 weeks of virtual fitness classes for 25 diabetic blind or visually impaired adults and seniors.
$600 Provides 4 weeks of instruction in a vital skill for maintaining independence: Services can include Braille, safe travel, diabetes management, cooking, managing finances, or computer classes.
$1,000 pays for 15 sessions of safe travel mobility training that can help prevent senior falls and broken hips. 
$1,500 will help us purchase 3 new Braille writing machines that clients can use for distance learning.
$2,500 will provide seasonal activities boxes for 20 youth who will participate in our winter camp that will offer relief to families during the holiday recess. 
Visit our Facebook and Instagram for GivingTuesday updates and other ways you can support our 2022 Campaign.